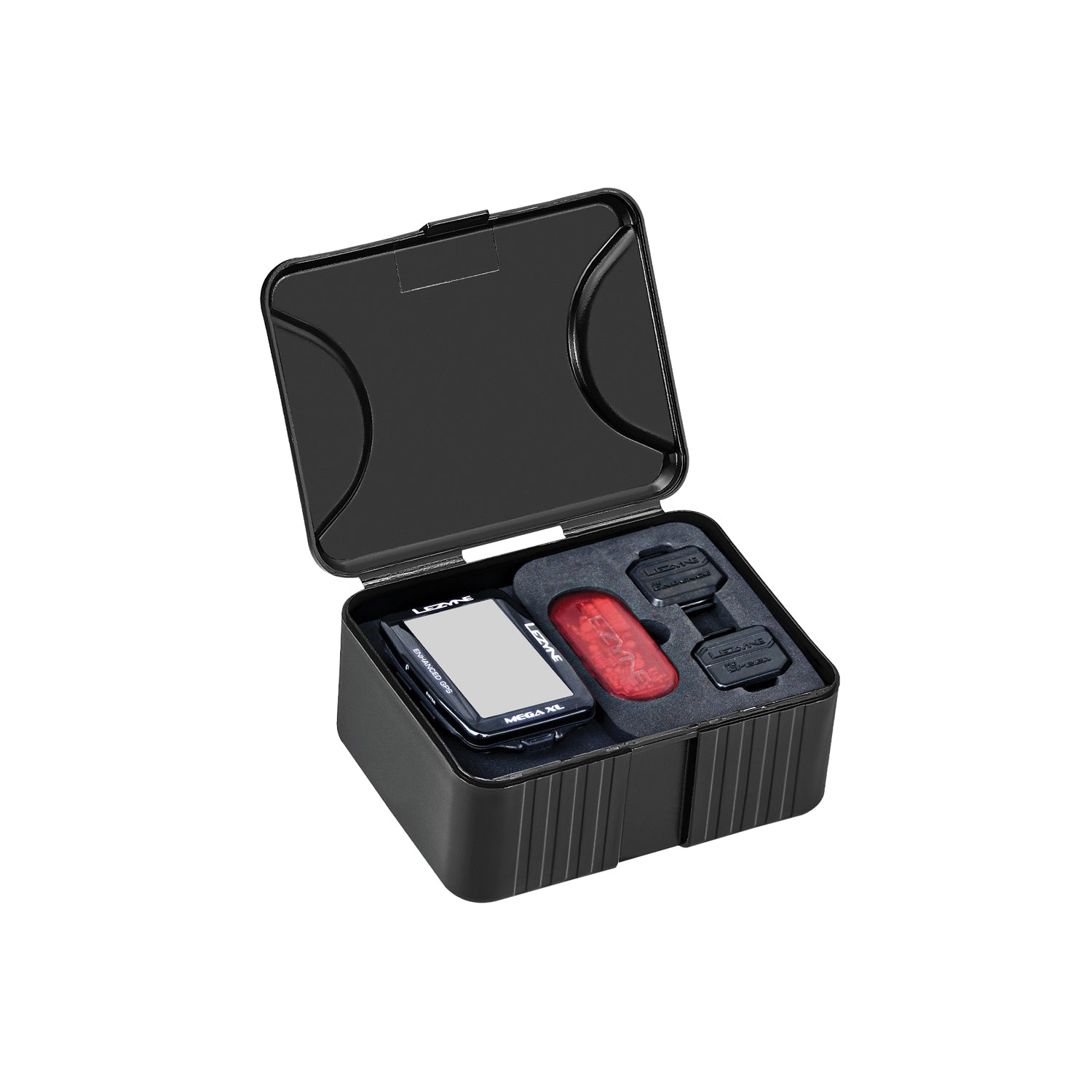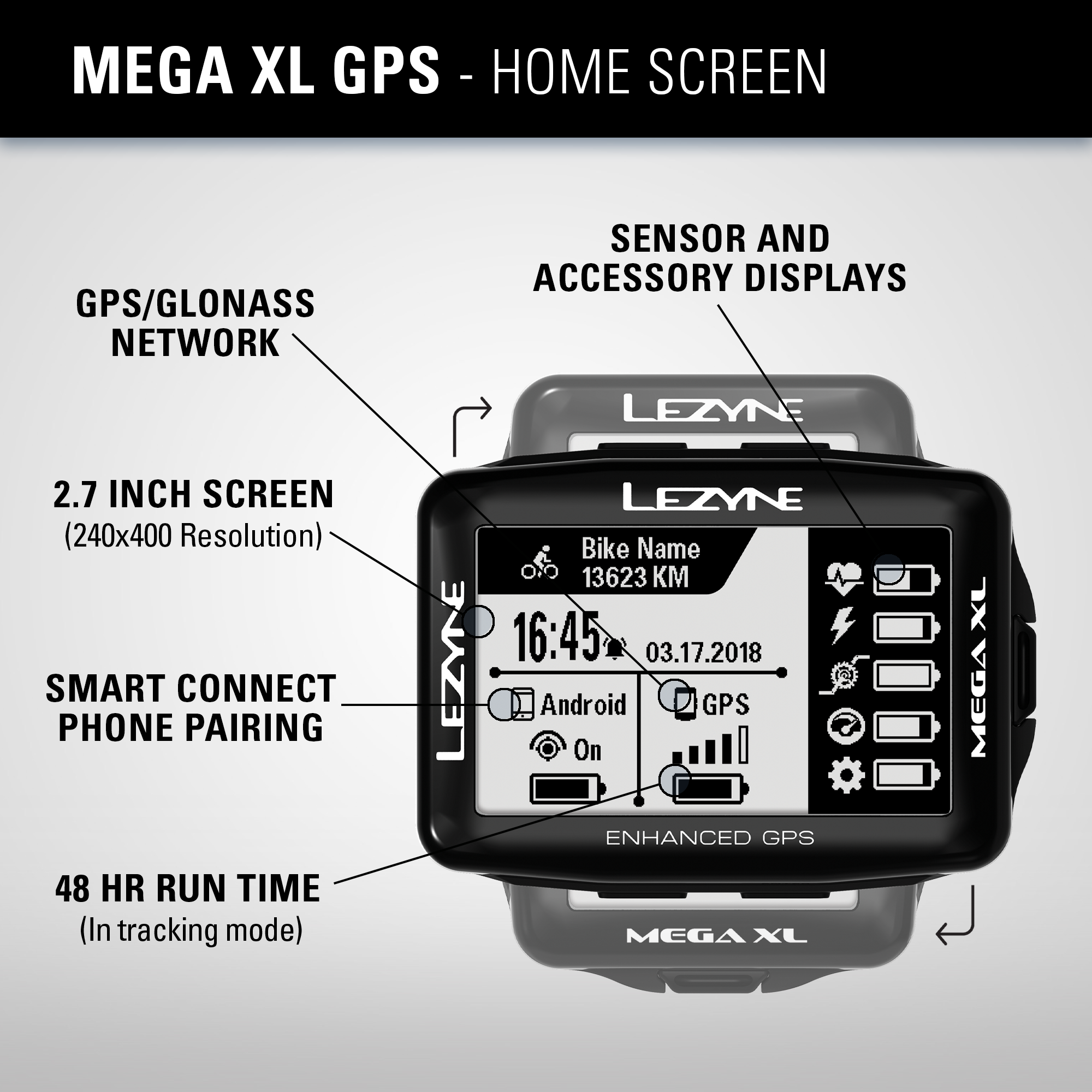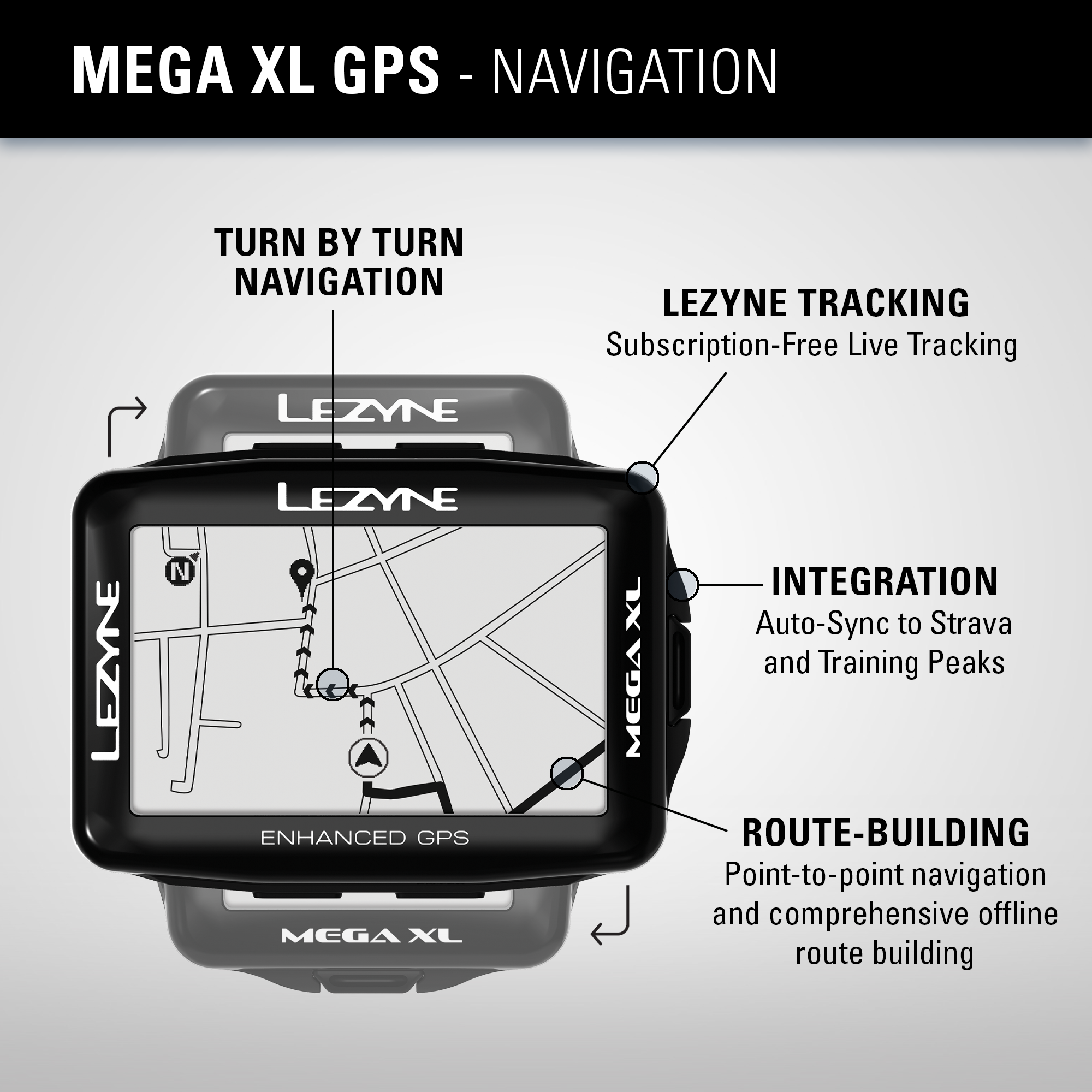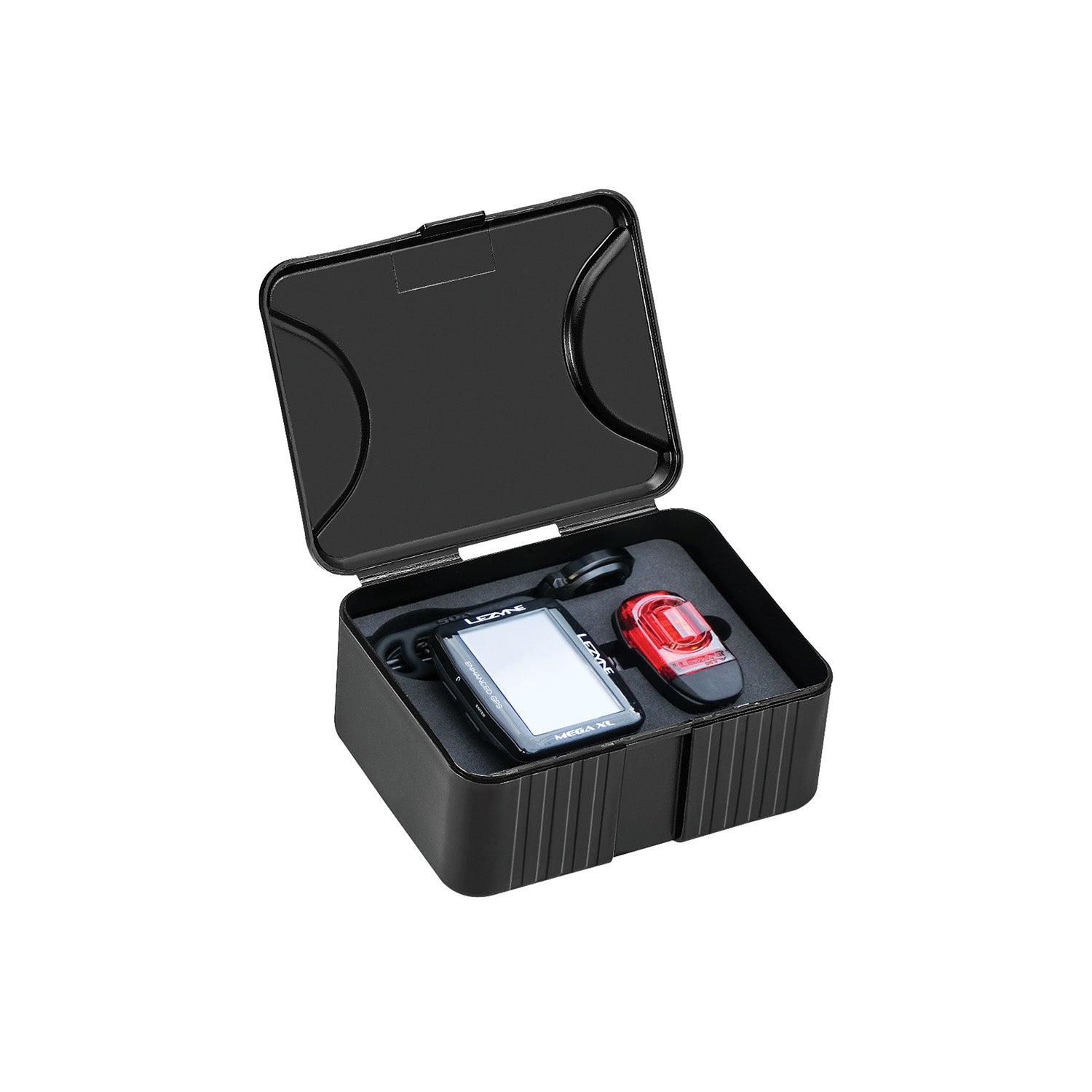 MEGA XL GPS
---
Designed and engineered in-house utilizing the ultimate in cycling GPS technology, the Mega XL GPS is a must-have device for serious riders. It has a large, 2.7-inch 240x400 high-resolution screen with the option of vertical or horizontal viewing. It can simultaneously pair with Bluetooth Smart or ANT+™ enabled power meters, heart rate monitors, speed/cadence sensors, and compatible electronic drivetrains. When paired with an iOS or Android handheld through the free Lezyne Ally V2 app, the device provides live turn-by-turn navigation and phone notifications (incoming calls, texts, and message app notifications). It also offers offline navigation and can be instantly customized.
Live tracking (Lezyne Track) can be activated in the app to let friends and family follow rides in real time. Furthermore, the device is equipped with GPS/GLONASS, a barometer, and an accelerometer. Combined, these significantly improve accuracy and data recording.
The Mega XL GPS is known for its best-in-class battery runtime of up to 48 hours.
Loaded options/kits available.
LOADED OPTIONS:

LOADED
- GPS Computer
- Heart Rate Flow Sensor
- Cadence Speed Flow Sensor
- Direct X-Lock Mount System
- Micro USB Charging Cable

SMART LOADED
- GPS Computer
- Alloy Forward Mount
- KTV Pro Smart Rear

LOADED PRO
- GPS Computer
- Heart Rate Flow Sensor
- Pro Sensor Pair
- Alloy Forward Mount


Add data fields to map and navigation screens
Power metrics: TSS®, Work, Normalized Power®, Intensity Factor®
Additional navigation cues
Durable, composite construction
Super accurate, advanced data recording system combines GPS plus GLONASS satellites
Simultaneous ANT+ and Bluetooth® Smart connectivity
Multiple real-time features when paired to the Lezyne Ally app
Barometer and accelerometer
Simple setup through Lezyne Ally phone app
Import .tcx and .gpx files
Intuitive four-button operation
Full navigation
Custom route building
Trainer Mode
Multiple bike profiles
Lithium polymer battery provides up to 48 hours of runtime
Micro USB rechargeable
Stores up to 800 hours of ride data
Customizable fields and page count (up to 10 fields)
On-screen preloaded maps
Custom alerts and auto presets
Extremely weather resistant
Includes X-Lock Standard Mount
FE-C Trainer compatibility
Smart Connect compatible
Receive text, email, phone call, and message app notifications when paired to smartphone
Sync rides via Bluetooth Smart to the Lezyne Ally phone app
Instantly download ride files (.fit) via plug-and-play flash drive technology (Windows/Mac) and upload directly to GPS Root website for ride analysis
Auto-sync ride data to Strava, TrainingPeaks and Today's Plan
Pairs with Bluetooth Smart or ANT+ enabled heart rate monitors, cadence/speed sensors, and power meters
Connects with compatible electronic drivetrains
Turn-by-turn navigation
Offline maps and rerouting
Follow structured workouts from Today's Plan and TrainingPeaks
SKU: 1-GPS-MEGAXL-V104