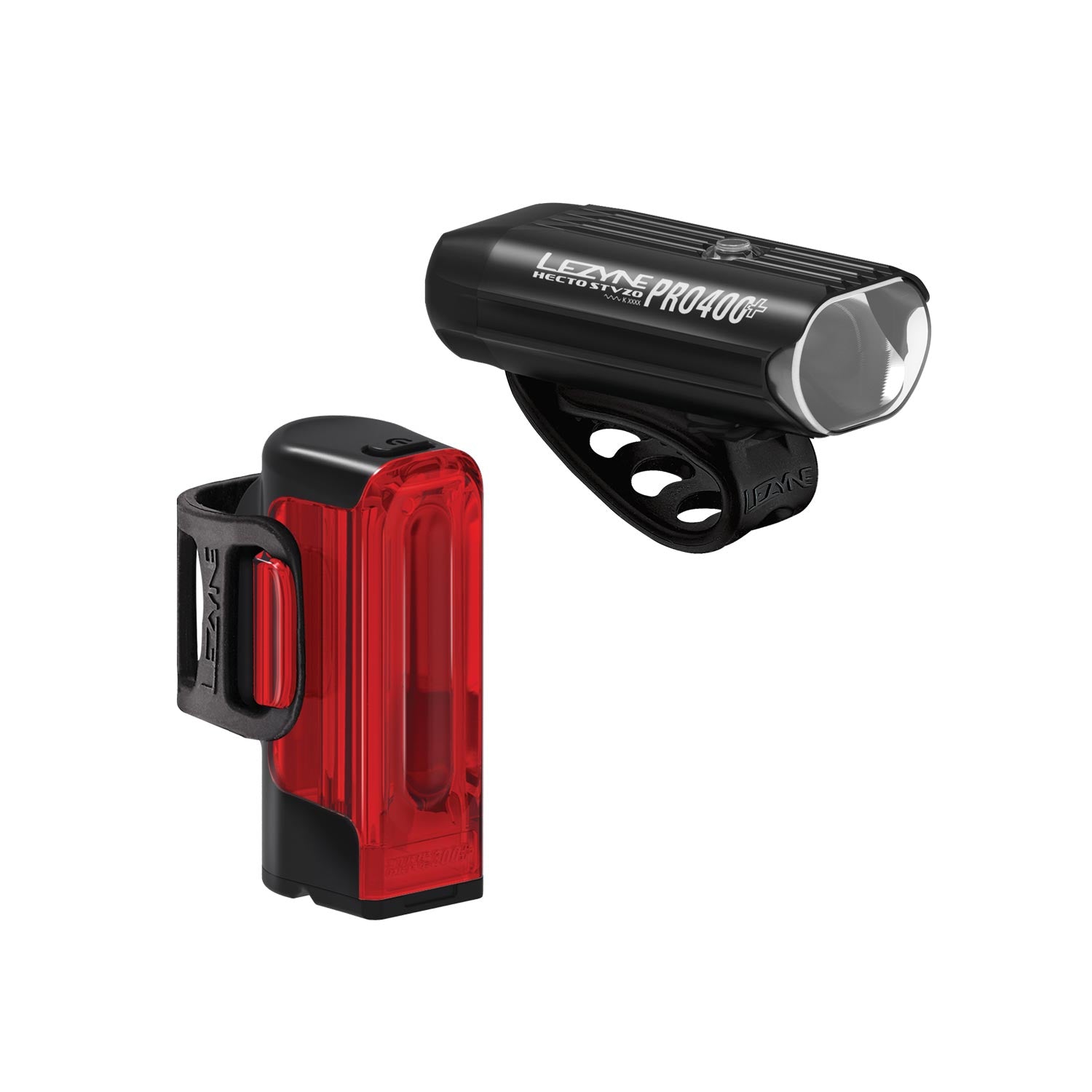 HECTO PRO StVZO 400+ / STRIP+ StVZO PAIR
---
FRONT LIGHT:
The Hecto Pro StVZO 400+ front light is StVZO-certified with four LED emitters. This light is engineered for maximum efficiency and runtime, providing the best beam pattern for optimal visibility in even the most challenging conditions. It boasts three output modes, with 400 lumens max output and a 4-hour max runtime.

The light's waterproof USB-C charging and CNC-machined aluminum construction ensures durability and efficient heat dissipation. Rigorously tested to IPX7 Waterproofing standards, it is built to withstand various weather conditions. The fresh optical design, optional GoPro mount compatibility, and Infinite Light Power Pack+ compatibility offer versatility and enhanced performance.

REAR LIGHT:
The Strip+ StVZO Rear is a powerful rear light with German StVZO optimized lens and ten ultra-bright LEDs providing class-leading brightness. The light offers two output modes running 40 lumens max and 10-hour max run times and up to 270 degrees of visibility via the Wide-Angle Optics lens built to provide increased side visibility for added safety.

It is rigorously tested to IPX7 Waterproofing standards to withstand even the harshest weather conditions. The Strip+ StVZO Rear has a 1400 mAh battery capacity and also boasts USB-C waterproof charging and a versatile seatpost strap securely mounts to a wide variety of round and aero posts.
SKU: 1-LED-9PRP-STV-V237
HECTO PRO StVZO 400+ FRONT SPECS:
Battery Capacity (mAh):
2800
Features:
IPX7, StVZO, Infinite Light Power Pack+
STRIP+ StVZO REAR SPECS:
Battery Capacity (mAh):
1400
Features:
IPX7, StVZO, Infinite Light Power Pack+
HECTO PRO StVZO 400+ FRONT